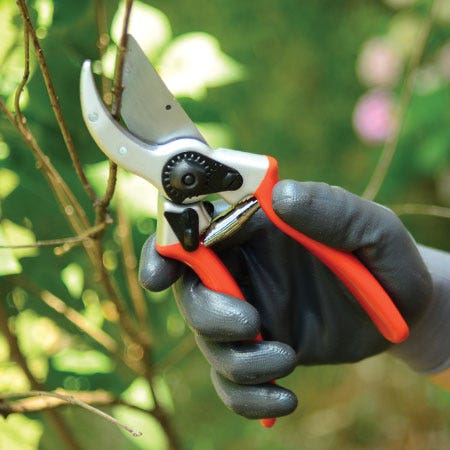 Gardening Tools
With garden tools, it's all about quality and durability. Need rakes, forks, shovels, pruners, or other garden tools? At Gardener's Edge, we've got you covered with well-crafted garden hand tools from the most trusted brands in the horticultural industry.
Thoughtfully designed and crafted tools make all the difference in the garden. Whether you're cleaning up leaves, spreading mulch, cutting sod, weeding, or edging, Gardener's Edge has a durable tool to get the job done right. We offer a carefully curated selection of garden hand tools from some of the best brands in the industry, including Leonard, Ames, NRG PRO, Prohoe, UnionTools, and more—all designed for easy use and built to last. Shop below, and be sure to put your new tools to good use with our helpful guide to pruning trees and shrubs!
From delicate pruning to heavy-duty trimming, garden hand tools to outdoor power equipment, Gardener's Edge has gardening tools for every type of garden and gardener. We stock popular, multi-use tools that are must-have essentials for daily work—like the Leonard Deluxe Soil Knife and Sheath Combo, complete with AM Leonard's lifetime warranty. Use it for dividing plants, cutting ties, planting, weeding, and much more.
Arm yourself with the best gardening tools in the industry. Gardener's Edge is backed by our parent company A.M. Leonard, which has been supplying horticultural professionals since 1885—and now we offer the same professional quality tools for home gardeners. Shop our selection of garden tools today!