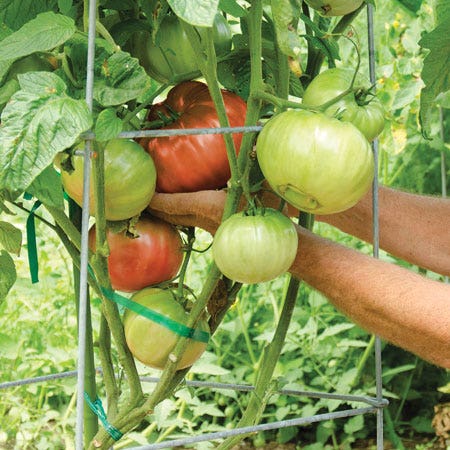 Vegetable Gardening
Shop our selection of vegetable gardening supplies to ensure a bountiful harvest this upcoming season. Browse our selection of stakes, soaker hoses, vegetable supports, watering systems, fertilizer and more.
Growing vegetables takes particular care because your goal is to maximize your harvest while maintaining flavor. For tomatoes, peppers, and more, we've got the supplies to keep your vegetables protected and healthy. Prepare your soil and maintain your plants with our variety of high-performance vegetable fertilizers. For tomato starts and other tender seedlings, check out our selection of degradable and non-degradable grow bags, tomato planters, and seed starting supplies. Protect your plants from the weight of a bountiful harvest with plant cages and supports.
Encourage and promote bigger yields with beneficial garden insects and disease control products to keep your plants healthy along the way. Whether you're growing in containers, propping up plants with durable tomato supports, or starting seeds, you can ensure the prized fruits of your labor stay healthy and strong. Shop our vegetable growing supplies today and get ready for some successful and tasty yields. And for tomatoes specifically, don't forget to read our 10 Easy Steps for Tomato Growing Success!