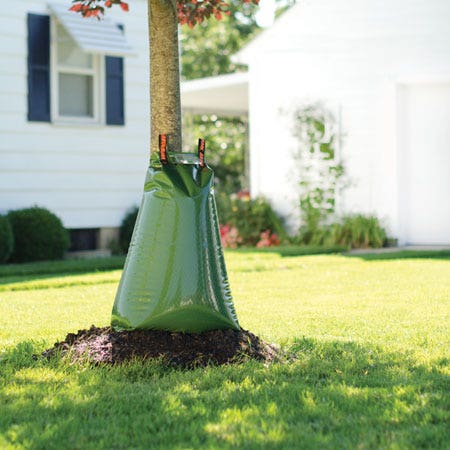 Watering & Irrigation
Gardener's Edge offers dozens of watering tools and irrigation systems to keep your plants and trees hydrated year-round. No matter the climate or season, you'll find efficient solutions to ensure vibrant and stable growth in your yard and garden.
From durable hoses and hose accessories to watering cans, sprinklers, and rain barrels, we've got your garden irrigation needs covered. Shop our garden watering systems, and be sure to read our Watering Tips and our guide for helping plants beat the heat.
Whether you're watering plants throughout the yard or installing slow-drip hydration systems for your trees, Gardener's Edge has the durable garden irrigation supplies to get the job done. We stock commercial-grade soaker hoses, watering bags, sprinkler heads, nozzles, and rain-saving barrels from top brands like Leonard, Flexogen, Dramm, Fiskars, Nelson, Treegator, and more.
If you're looking for ways to keep your yard, garden, or garage organized and tidy, check out our selection of hose reels and stands. From versatile, four-wheel hose reel wagons to free-standing hose swivels, these supplies will keep your irrigation tools close at hand and protected from the elements.
Every type of garden, from raised beds on balconies to backyard oases, requires efficient and effective garden irrigation systems. Shop Gardener's Edge's selection of watering and irrigation supplies today and give your plants, flowers, and trees the support they need for continued growth!