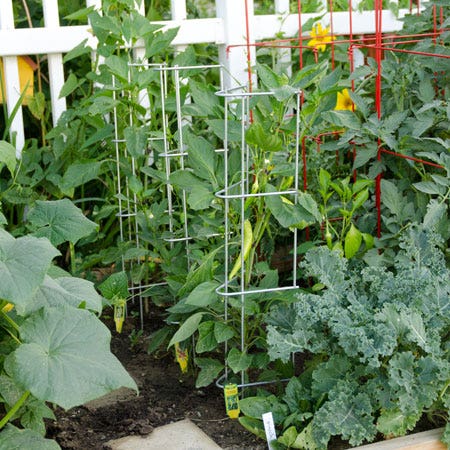 Plant Supports
If you're growing tomatoes or dealing with ever-drooping flowers, plant stakes, garden trellises, and other plant supports are essential for your growing backyard oasis. Shop Gardener's Edge for a variety of traditional and innovative plant support products!
Here you'll find a variety of durable plant supports, stakes and garden trellises made from strong materials like heavy-gauge steel, natural bamboo, and welded wire. These reinforcements are efficient, cost-effective supports that will get the job done and withstand outdoor climates. Whether you're growing vegetables or protecting fragile flowers, Gardener's Edge has the garden stakes and trellises you need for consistent success.
Gardener's Edge also carries a wide selection of plant support accessories, including garden connects, twine and plant ties, garden wire, and more. These products are must-have essentials throughout the garden and yard, whether you're tying plants or building A-frame trellises. Shop our selection of durable braces, cages and plant supports today and give your precious growth just the right amount of encouragement and reinforcement to thrive!