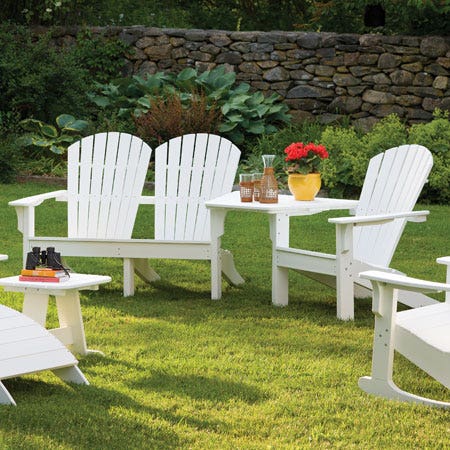 Outdoor Living
At Gardener's Edge, you'll find a wide selection of outdoor decor, garden furniture, outdoor accents, and other outdoor living products that will elegantly liven up your backyard space. Shop today to create inviting communal spaces for friends and family.
Plants, flowers, and trees form your garden - but they are all brought together and complemented with the right garden accents and outdoor decor. From gothic-style plant stands and elaborate garden arbors to subtle garden plaques and natural-looking landscape rocks, Gardener's Edge has a huge variety of outdoor accents that can serve as the finishing touches on your backyard oasis.
If it's garden furniture you're after, you're in the right place. We stock all kinds of beautiful benches, outdoor dining tables, lounge chairs, rockers, and folding side tables that will create the perfect outdoor dining and socializing environment. Our classic outdoor dining furniture from Salem features an iconic style and is designed to last a lifetime. The pieces are crafted with high-density UV-protected polyethylene and are backed by Salem's 20-year warranty.
From outdoor lighting to pest control, here you'll find everything you need to create a welcoming, comfortable, and relaxing outdoor living environment. Shop our selection of outdoor decor today and don't let another season go by without enjoying your outdoor space to the fullest!