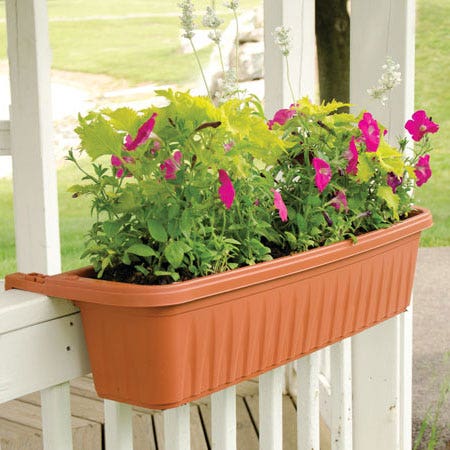 Planters
Whether you're creating a green balcony oasis with planter boxes or building a new raised-bed vegetable garden, Gardener's Edge carriers the best brands in garden planters and containers. Shop below for grow bags, hanging planters, raised beds and more.
If you're looking to make an impact on your deck, porch, or patio, shop garden planters from Gardener's Edge. We stock a great selection of flower planters, deck and patio planters, plant stands and baskets that can transform your space into a welcoming green oasis. You'll find top brands like Lucca, UrBin, Cetara, and Mr. Stacky—all at affordable prices.
If you're interested in investing in raised garden beds, Gardener's Edge is a great place to get started. We stock both one- and two-level Western Red Cedar beds, which feature rustic styles and durable US-made craftsmanship that will last. Or try our popular VegTrug elevated garden beds in a variety of shapes and sizes. To bring height to your garden or flower displays, check out our window boxes, railing planters, and dramatic tall planters.
Garden planters and raised beds are becoming increasingly popular—and it's easy to see why. Cost-effective container gardening is a great way to make a big impression in small spaces. Shop today and don't forget to stock up on garden tools too!